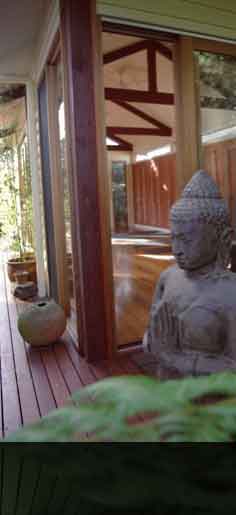 The Studio
Katandra Yoga Studio is a boutique Iyengar Yoga studio at the rear of 49 Katandra Rd, Ormond. Set in a peaceful garden setting, the studio is suffused with light and warmth. Limited class size allows close individual attention and a supportive and inclusive environment for all students, regardless of experience.
The Teacher
Lee Treloar is a certified Iyengar Yoga instructor who has been practising Yoga and Meditation for over 20 years. She continues to work and study under the guidance of Senior Iyengar Teacher, Peter Thomson. Lee also holds a Diploma of Health in Yoga Teaching and a Certificate IV in Assessment and Workplace Training.
The Classes
Classes at the studio are taught exclusively in the Iyengar Yoga tradition. Based on the work of BKS Iyengar, still practising and teaching well into his nineties, the tradition is widely regarded as one of the world's most influential and respected approaches to the ancient practice of Yoga. Iyengar Yoga is known for its precision and focus on alignment which brings balance and integration to both body and mind. Practised over time, Iyengar Yoga develops stability, strength, suppleness and a calm, measured approach to life.